Papa Bear Hug
It was the hug heard – and seen – around the world; a grandfather embracing his grandsons, then ages nine and six, while disintegrating into tears. Caught on camera, the moment was shared across the country and around the world.
"If you know my full story, it is a God story," says Kevin Eubanks, the man in the video. "We have always said that we want it to be told to other people."
Kevin is father to three daughters and grandfather to three boys, and as proud as he is of his girls, it doesn't take long to discover what it means to him to be a grandpa.
"It's all about the grandsons now," he says. "I get to see them all the time. My middle grandson was born on my birthday. That gives me and him a special bond. My kids, when they come over, it's like, 'OK, you can go home now. I've seen the grandsons!'"
The interactions Kevin and his wife Laurie enjoy with the grandsons are all the more poignant since Kevin suffered a stroke in 2014, an episode that temporarily paralyzed his left side and left him without use of his left arm. Thus, he didn't have the ability to hug with both arms, a devastating turn for a man who never considered himself at risk for stroke in the first place.
"I didn't have a whole lot of health issues," he says. "In fact, two weeks before my stroke, I had been to the doctor and went through a physical. The job I had required me to hold a CDL and every so often I had to go get a physical to make sure that I was in good enough health to drive the truck."
The stroke was so severe, it was initially feared Kevin wouldn't survive. In its wake, he underwent six weeks of therapy just to get to the point of being able to transfer from a wheelchair to bed. Everything else he would have to relearn one slow, painstaking step at a time. But come back he did, and in the process inspired his middle daughter, Emily Sisco, to pursue a career in occupational therapy.
"I went back to school as a nontraditional student," she says. "I had received my bachelor's degree in general studies in 2013. Since then, I just wasn't really sure what I wanted to do with my career. After my dad had his stroke in February 2014, I was able to see the process of him going through the recovery period and his therapy journey. That's what piqued my interest in therapy."
Emily enrolled at Arkansas State University in Jonesboro and was part of the school's second cohort of occupational therapy students, graduating in 2017. A year later, she got a call from the program director asking if she wanted to teach part time at the school, an offer she accepted. Her rapid rise after years of indecision didn't come as a surprise to her father.
"When she was in school, she was always a smart student," he says. "She always got good grades, but she also had a strong will. When she set her mind to something she would accomplish it.
"I always said, 'Emily, as long as I can put you on the right path, I don't have to worry about you.'"
Emily saw an opportunity to use her father's reality to educate her students. With his blessing, she shared his daily routine with her class as a real-world example of what their future patients would be going through.
"Before, I gave my students a made-up person and made-up case study," she says. "What I started last year, and wanted to continue this year, was giving them my dad as a client. I took a video showing how he can dress himself, how he is able to walk and maneuver through the house, how he is able to access the kitchen. We simulated his bathroom activities."
In one class, students were challenged to come up with an idea for an adaptive device that would improve patients' quality of life.
"We Facetimed my dad and the students were able to ask him all kinds of questions," Emily says. "They're asking about his background, his medical history and then what's meaningful to him and what he wishes he could get back to doing."
During these conversations, Kevin expressed how he missed fishing, playing cards, how he wanted to be more independent in the shower, and especially the time he spent with his grandsons.
"What was so amazing about it was, at the end of the conversation, he made this remark of, 'Yeah, and I wish I could hug my grandkids again using two arms,'" Emily says. "If you weren't paying attention, you would've missed it, but a group of students heard that remark. They knew that's what they wanted to focus their piece of adaptive equipment around."
After two weeks, class members presented their prototypes, all tailored to Kevin's situation. Each device impressed Emily, but the simplest idea among them – the one that would allow him to hug – gave her goosebumps.
"It was essentially just a long piece of fabric that had Velcro on it," she says. "When they presented it, I had tears in my eyes because I was thinking, 'Wow! This is so simple.' I was envisioning my dad's reaction because I knew how it was going to impact him.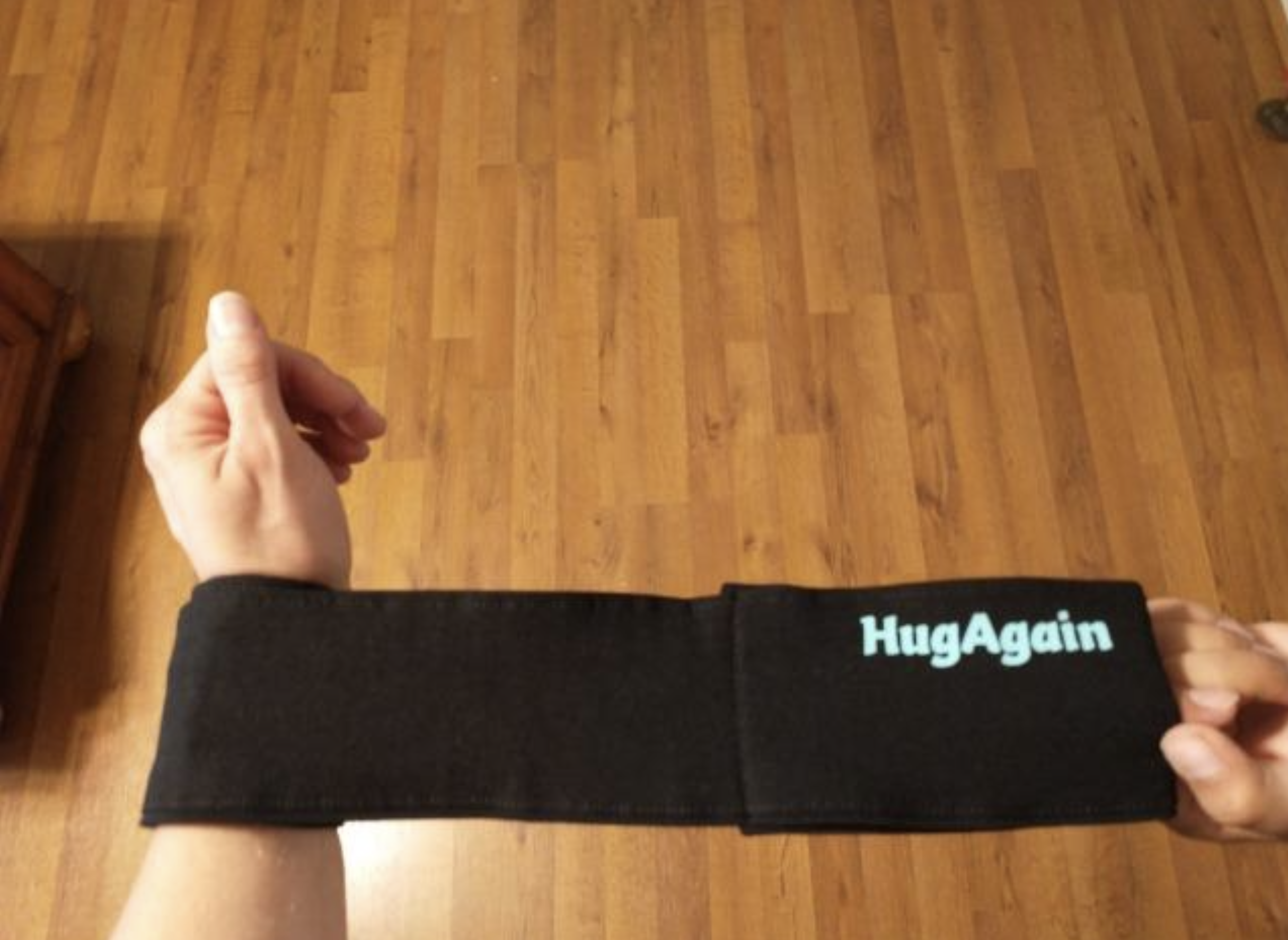 "It's funny because they told me afterward, they were actually worried about it when they turned it in thinking, 'Is this going to be enough?' The idea was so simple, they were concerned about their grade."
When class dismissed, Emily couldn't call her mother fast enough.
"I said, 'Are y'all home?' Mom said yes and I said, 'Good. Don't go anywhere. I'll be there in a few minutes,'" she says. "I picked my children up early from school because I literally could not wait to come over and show them everything my students had created."
Kevin was overwhelmed by the inventions, completely unaware of what his daughter had saved for last. She fastened the material, dubbed the HugAgain, to his wrists, forming a circle by which his good arm lifted his left arm up and over the head of his oldest grandson, Cope, then again for second-in-line Rigney. It was a moment no one in the family will ever forget.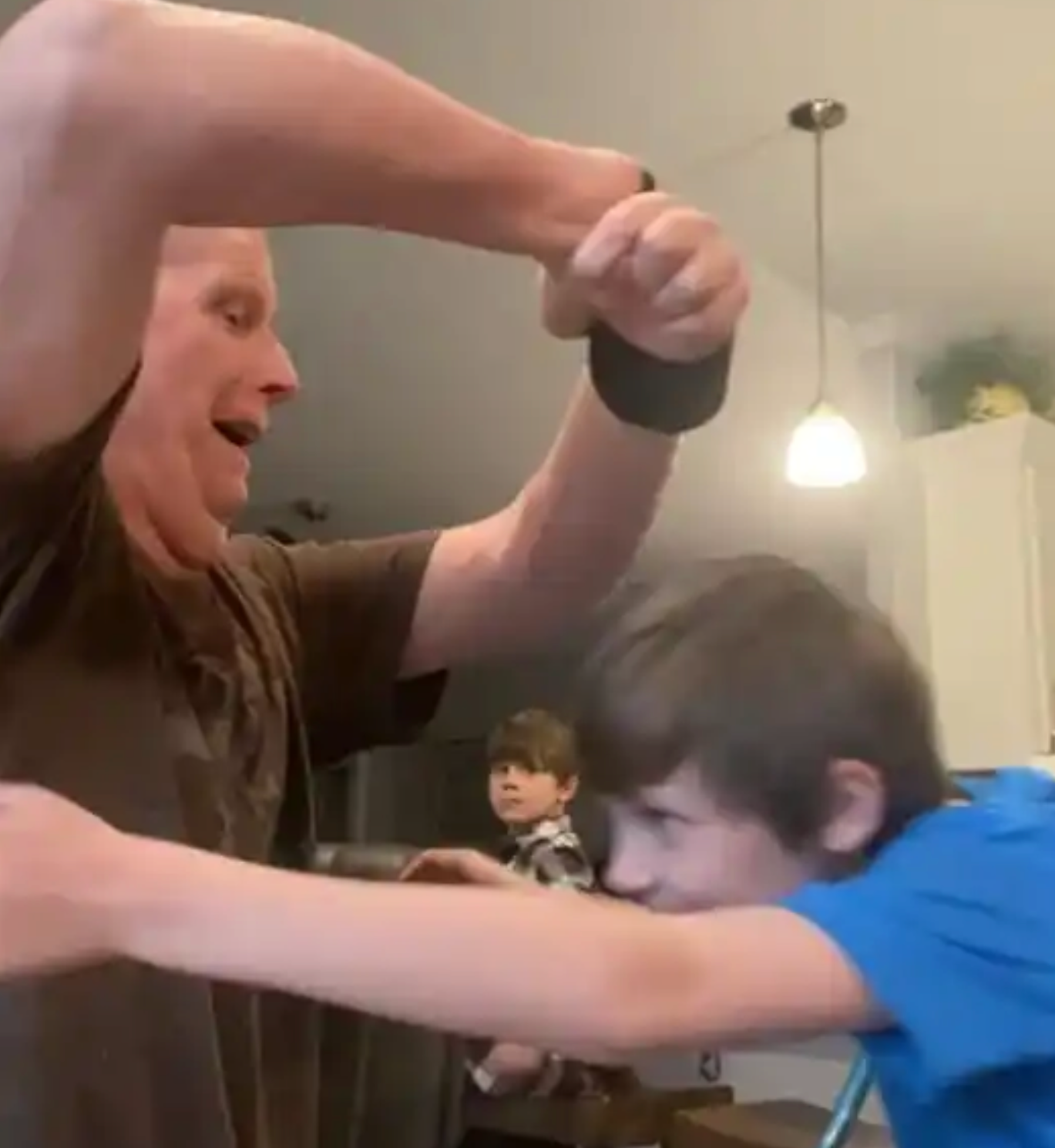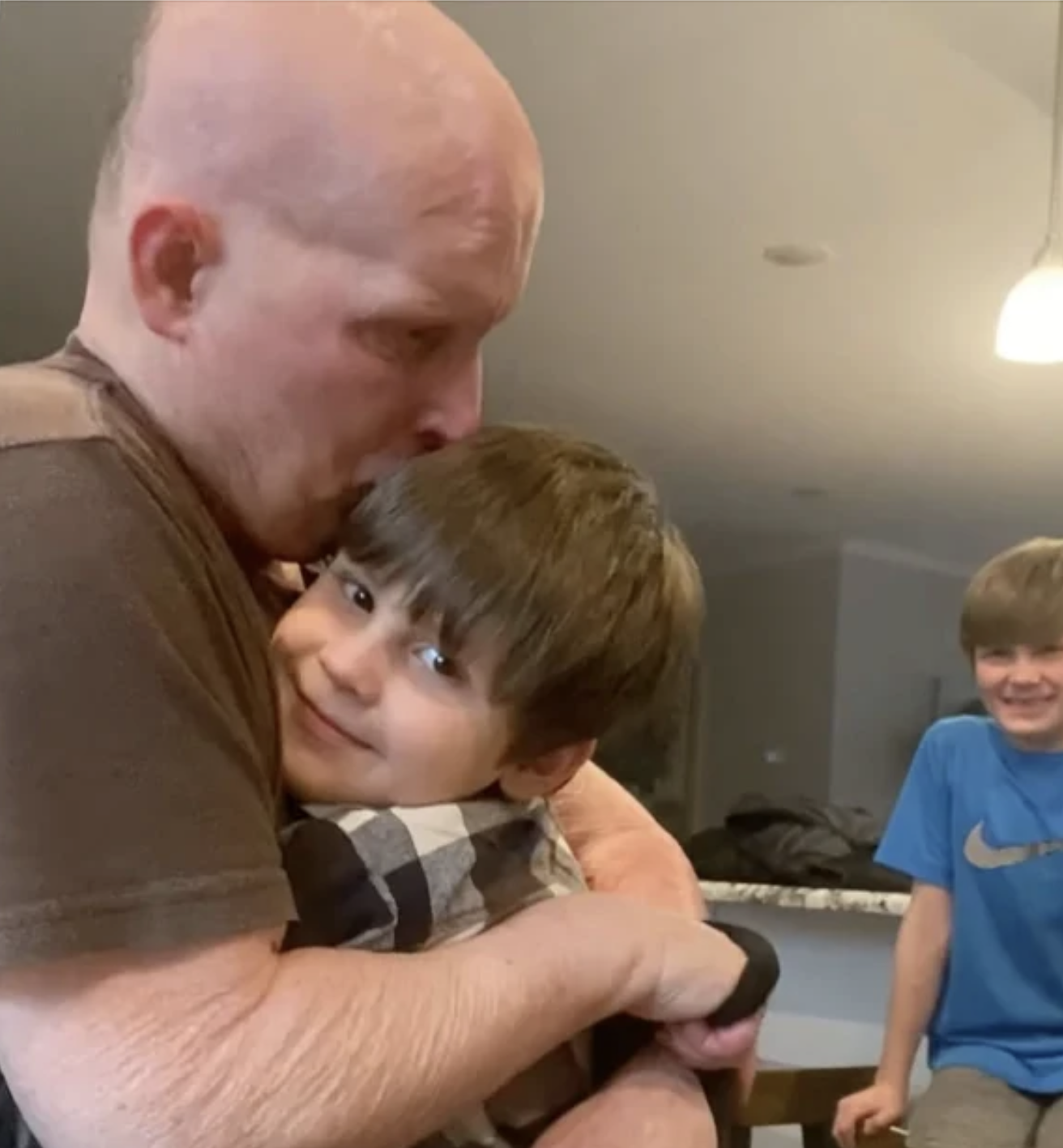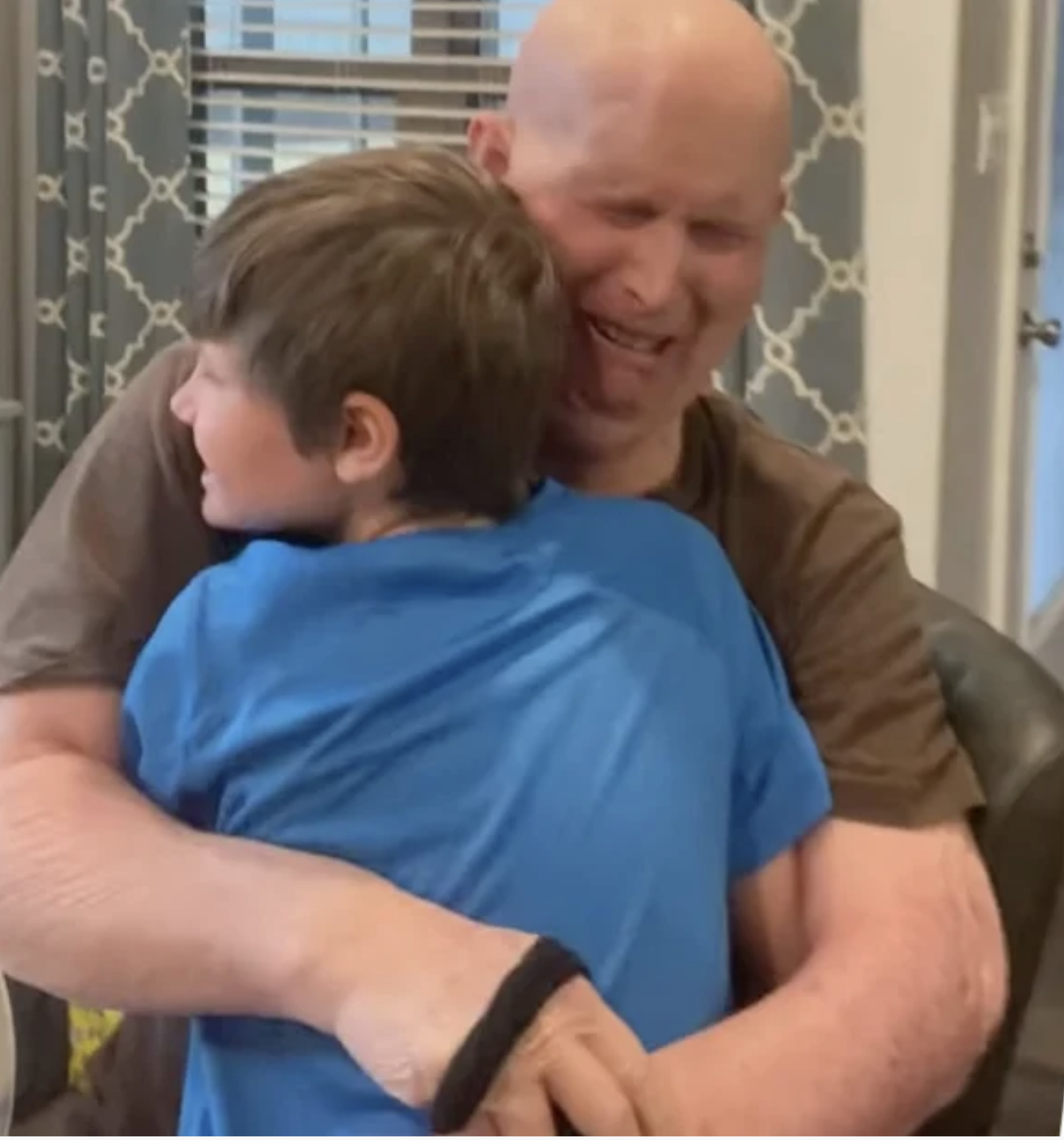 "It was one of those situations where I was caught off-guard," Kevin says. "When she showed me the device that would allow me to play cards again, I just couldn't imagine what would be coming next."
"You were getting emotional just me putting it on your arm," Emily chimes.
"Yeah, because I had an idea of what it was for," Kevin replies. "And then it hit me it had been eight years since I had wrapped both arms around my oldest grandson and hugged him. He was one the year I had my stroke. Then when my other grandson came up, it dawned on me that I had never hugged him that way. That's when I got so emotional."
"We're kind of used to him crying by now," Emily says with a gentle laugh.
The resulting publicity from the viral video led the creators of the device to apply for a patent, with the help of ASU. The dream is to help more patients all over the country.
"The one thing we have said out of all of this is that we want other people who might be in a similar circumstance to always have hope," Kevin says. "Hope is what gives a person the ability to improve on their situation. If a person can maintain hope out there, then eventually something good will come out of it."
Emily is proud of her students' efforts but admitted no matter how big the HugAgain gets globally, it can never outdo the moment her father embraced her sons for the first time.
"I actually felt guilty because I thought, 'How could I have not realized this before now? It's been eight years, and this was something so important to him that we had not tried,'" she says. "I had a feeling of guilt, but then was just so thankful and grateful and proud that he was able to do that again."
Learn more about the HugAgain – and watch the emotional video of Kevin and his grandsons – at facebook.com/TheHugger2022/.