It's been said medicine is as much art as science and the same can be said about Dr. Ashley Mohadjer, who arrived in Fort Smith in 2022 as Baptist Health's newest interventional cardiologist.
Ashley landed in the River Valley having completed more than a decade of medical training which she relies on to guide her in making medical decisions. But before that, she spent almost as many years studying ballet, something every bit as technical and physically taxing as medical school or residency ever was.
"I've always been the type of person who loves a good challenge and a good puzzle," she says. "The challenge and the discipline of the [ballet] art form were appealing to me. And just the freedom of movement; there's just something I think in all of us, in any form of dance, that's just this innate almost spiritual thing where we feel like this is what I should be doing. It's fulfilling and a lot of fun."
Ashley didn't just dabble in ballet, she worked hard enough to rise through the ranks of an elite dance company during her formative years growing up in Southern California. It was a surprising ride considering how lukewarm her introduction to dance was.
"My mom encouraged me to try it, but I wasn't forced to do anything," she says. "To be honest, I was a little averse initially. I wasn't sure I was going to like it. I thought it would be too stiff and boring for me, but I agreed that I would go to one class and see what happened.
"I ended up going to ballet class and, to my surprise, fell in love with it, loved the challenge. I thought, 'I'll go a couple times a week and see how this goes.'"
Ten-year-old Ashley was getting what is considered in ballet circles a very late start, a fact that landed her in the beginner's class with girls much younger than she was. But her natural ability and determination to get better led her to advance quickly.
"My mom had this conversation with the director of the company and the school who said, 'Well, if she's willing to put a few months in and learn the basics, I think it's going to really benefit her in the long run as long as she can hang with a class of kids who are younger than her,'" Ashley says.
"So, I did that, and I was a pretty quick study. Within a few months I'd picked up the basics and started moving up the levels of the academy. I don't recall the exact amount of time it took to match my colleagues, but I picked it up pretty quickly."
Ashley more than matched her classmates and the validation she received from being on stage was intoxicating.  "As you start moving a little higher in the school, there are opportunities to perform with the ballet company the school is affiliated with," she says. "The first opportunity for me was The Nutcracker. Being able to see these young women who are doing all these really amazing things and being able to perform on this stage, that was a very fun experience.
"Even at that young age, in an obviously limited role, it was gratifying. I wanted to continue and try to be like those older girls. I think that really kept things interesting as well."
This desire drove her to practice even harder, which in turn made her stand out from her peers. With each success, Ashley became more determined to explore her limits in dance and push past them.
"Some of that validation happened when there were more limited roles for young dancers in performance," she says. "There was an audition and girls in the class who I'd been dancing with didn't get selected for those things and I did. It wasn't necessarily because I was more talented than them, a lot was also based on work ethic. I was just motivated to really put the time in and do the cross-training and different aspects that happen outside of the classroom to try to improve myself."
By the time she was a teenager, Ashley was invited to become an apprentice with Inland Pacific Ballet in Montclair, California, the regional company affiliated with her dance school. She also was landing spots in prestigious summer ballet camps, eventually attending the School of American Ballet, one of the top ballet schools in the country.
"During high school I started apprenticing with that regional company and moved up the ranks," she says. "It was during high school that I was able to be a professional ballet dancer, essentially, balancing time with my schoolwork, which was insane."
Approaching high school graduation, Ashley began to look at her career options more pragmatically.
"The conversation kept coming up about college or this dance thing," she says. "I always liked school and I knew I wanted to continue my schooling. I think in a perfect world I would have done both for as long as I possibly could, but that's not realistic.
"It was a difficult decision to navigate, because I didn't really know what my career aspirations were and then over here there's this huge thing that's been a big passion and huge part of my life. But when you think about the longevity of a dancer, how long is that career? Once you're in your twenties or thirties, you're starting to get injured; there's only so much your body can handle. I decided I would prioritize my schooling and go to college and still dabble in the ballet world as much as I could."
Ashley earned her undergrad from Scripps College in California, majoring in biology-chemistry, during which time she set her sights on medical school. She took a year off, then entered Western University of Health Sciences, an osteopathic medical school, from which she graduated in 2015. From there, she did her residency in internal medicine at the Cleveland Clinic in Ohio, followed by a cardiac fellowship at the University of Florida in Gainesville, which she completed in June 2021. She then went on to complete her interventional cardiology training at Vanderbilt University in Nashville.
Dance remained on the fringes of her hectic schedule, providing stress release and fitness during the demanding days of medical education. And she says the art form came into play in other ways, such as the ability to multitask efficiently, just one of the skills she uses to this day.
"The most obvious one, to those who know anything about the dance world, is just discipline," she says. "Medical school is really challenging. There's a lot of information thrown at you in a small period of time and that can become very overwhelming. I think having fifteen or sixteen years in the dance world gave me a lot of discipline and focus.
"Maybe a less common thing, I think, is the ability to be adaptable. In the field I'm in now, the situation can change at the drop of a hat. Things can be going swimmingly one moment and then something happens and you're in this more dire situation. You have to think on your feet and adjust your approach as you're going along. Some of that adaptability I certainly gained from having been a dance understudy."
Since landing in Fort Smith, Ashley has scoped out some potential dance studios in the hopes of resuming her love affair with the art form that continues to feed her creative side and buttress her professional life.
"I never saw myself as a ballet teacher or running a ballet company for the long haul," she says. "I think I needed something more cerebral in addition to that artistic side and here I am, a doctor. But it's a different level of self-awareness that athletes have and so I definitely want to keep doing dance for as long as I can."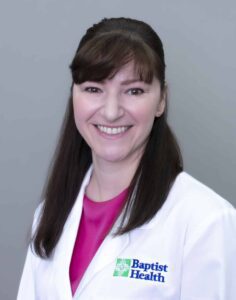 Find Dr. Mohadjaher's professional bio at Baptist-Health.com.
Baptist Health Cardiology Center-Fort Smith is located at 1500 Dodson Ave., Ste. 60, Fort Smith, Arkansas.
For more information visit Baptist-Health.com or call Baptist Health HealthLine at 1-888-BAPTIST.